R2R2R PART 2
I'm writing this while the adventure is still fresh in my mind, before everything goes to roses. You know, the pain starts to fade but the glory remains. Before I only write things like 'omg I did it! R2R2R was sooo fun sooo cool soooo beautiful sooooo glad I did it!' and other BS rosy statements. I think this is the case in many blog postings about the event. They let the pain fade and you end up reading this pleasant summary of the runner's accomplishment and get no sense of the reality. If you ever click on someone's post about this event and it says things like that, please exit the page immediately as they are lying to you. Also, to all the running publications out there (such as this Competitor post –Guide to Running the Grand Canyon) that spew general, blanket statement tips...you should not sugar coat the truth. That post makes it seem like its a nbd jog through a park. So my goal is to provide a sense of reality for anyone interested in knowing about how R2R2R goes down.
The Day Before
Let me start off with a few pre event details to set the mood. There were 5 of us running. All arrived Tuesday for a Thursday run. Tuesday was 100% travel. 5am wake up for a 6:40am flight, 10:30am Phoenix arrival, lounging at the USO until 2pm for all travelers to arrive, rental car pick up, 2.5 hour drive into Flagstaff for some errands. Of course I have to touch on the food. We ate at a local place for dinner where I ordered a salad with a scoop of quinoa and a glass of wine. It was just enough after a day of sitting. Next was a stop at the local Whole Foods where I was endlessly mocked by my male travel companions for buying 2 bags of food for 1 day. They did not find the Whole Foods selection as appealing as I did and we made a second stop at Fry's (Kroger) for more common items. It was a very long day and we pretty much crashed as soon as we unloaded at the rental house.
Wednesday morning came early. The group was on East Coast time so everyone was up and moving by 4am local time. After taking in a beautiful desert mountain sunrise, I enjoyed a nice 4 mile jog to shake out my travel legs. By 8:30am the group was ready to make the 1.5 hour commute to the trail head at the Grand Canyon to scope things out. We stopped at gift shops, took photos and planned some logistics of the next day: where to park, start time, etc… We only visited Angel Bright lodge area, where we planned to exit the trail and complete our adventure. Looking down from that South Rim we could see the trail that would be our return route. It looked pretty non-threatening, a dirt path in that trails off into the distance… Sure okay, this looks okay… I can do this… But staring off into the canyon created a sense of dread inside me. I got worried, nervous, and even fearful… Surely this is not possible and a very bad idea.
We head back to Flagstaff to rest and prepare. After a large lunch of brown rice, kale, mushrooms, eggs, and ranch dressing I started to get my gear together. I was definitely in 'eek' mode; What to bring, wear etc… I decided my pack was not going to cut it. I was nervous that it was too cumbersome and would cause problems so we made a trip to the local REI where I purchased the Osprey Rev 6. Maybe not the best idea to buy a new pack hours before taking on R2R2R, but I was also wearing my trail running sneaks (Brooks Cascadia) that have been used once in the past 3 years. That should clue you in on the fact that I am not a trail runner. I like roads for biking and running. The rest of the evening went by quickly. I forced down a Daiya frozen pizza (gluten free/ dairy free) and plenty of water with nuun as I set to packing my gear and played episodes of Broad City in the background to take the stress down a notch. At 8pm I was in bed trying to calm down and fall asleep, but every runner knows its tough to sleep with a big event looming. My alarm was set at the way too early time of 1:30am. Being on East Coast time barely helped make that a decent waking hour. Although incredibly unpleasant, it was necessary to be out the door at 2:30 to make our start time at 4:30am.
What I brought on the run:
· Outfit
o Brooks Cascadia Sneaks
o Socks
o Shorts
o Tank/sports bar
o Bandana --- essential for wiping down and cooling off with
o Nike Cap --- would've died without this
o Gloves --- would've survived without
o Arm Warmers
· Handheld Hydration
o 16oz water – good to have the extra water
o 4 Pills Ibuprofen --- took 2
o Band-Aids --- luckily didn't need
o Sunscreen ---used up
o ID --- body identification. Lucky did not need
o $20 --- spent ~$4 on Lemonade
o Extra pair of contacts
· Hydration Pack (Osprey Rev 6)
o 1.5L hydration bladder
o Socks – did not use
o Trail mix (homemade - see side bar) 2 zip locks ---saved me/ate 75%
o Rice Crispy Treat (homemade) --- did not eat
o 6 Honey Stinger Gels --- ate 1
o iPhone --- no service but photos
o Gum --- great for keeping mouth moist in desert
o Drink Mix (forget which kind) 1 packet --- could have used 2
o Bounce Coconut Bliss Ball --- ate but wish I didn't
o KIND Hickory Smoked Bar --- did not eat
o Lipstick Phone charger + Cord --- did not use
o Headlamp --- Started out with it
o Orange Slice Candy --- Ate 6 pieces
o Navitus Maca Bar --- did not eat
o Selfie stick/phone tripod --- useful
The Run
Epic was termed the most overused word of 2013, so using it now seems watered down in meaning. However, if there was ever an appropriate time to say THAT WAS EPIC this is it and I'm doing it. The run was EPIC.
Alarm off at 1:30am, quick shower, geared up, extra gear for post run packed in the car, and breakfast grabbed to consume during the drive. I was in good spirits but super tired and nervous as well. The 1.5-hour drive was tough; the streets were littered with Elk and Deer. I only managed to eat ¼ of my pancake and ½ can of Starbucks drink. The day was cool, but not cold, but to avoid any issue I started off wearing shorts, tank, arm warmers, gloves, and cap. I think we started on South Kaibab around 4:45am. The whole group was excited and smiley and ready to go! The start of the run was a quick descent. It was steep and rocky but fun since my legs were fresh and able to quickly side step down the switchbacks. It was imperative to run head down to not trip off the side of the cliff, but the views were breathtaking so there was plenty of pausing to take it all in and take photos. We got stuck behind a mule train pretty quickly into our descent. But that was also awesome because it isn't often you get held up by a line of mules (see inset). We were allowed to pass when there was a good spot for the mules to 'pull over' and we were thankful to be on our way again. It is easy to get carried away at this point in the run.
You're fresh, its beautiful, and its all down hill but it is important to hold back and conserve energy and not destroy your legs. This is probably the biggest separator between cycling and running. With cycling, only the up hills will shred your legs. With running, every step up down and flat do damage to the body. Down hill running can actually be the most damaging, as there is a huge amount of force and strain being put on the legs. Also, with this specific trail, it is switchbacks and rocks and I was using stabilizing muscles I forgot existed. At mile 7 the descent was finished (yes 7 miles + ~4500 ft ), and we crossed a bridge, took lots of photos, and discovered the first water stop. Everyone filled up with water, fixed any issues with shoes, packs, and took a second to reflect. 7 miles in, feet burning, temps climbing; the reality was setting in that this would be a long day. We planned for the group to stay together for the way down and then break up as it naturally happened. I was up ahead a bit in the next mile as the South Kaibab trail merged into the North Rim section and passed by Phantom Ranch. The plan was to stop there on the return, but I pulled over at a picnic table to pull off my arm warmers and waited for the group. At this point we had left South Kaibab and transitioned to North Rim. I couldn't see anyone behind me and was nervous I wasn't on the right path and wanted to confirm that I was on the right section. Shortly the group came into view and as I watched their faces as they ran past me I was filled with dread. No one was smiling. No one said a word. It was only mile 8 and this was the mental state of the group??? Uh oh… I joined them and pulled in to the lead again. We passed a sign that read '13.2 miles North Rim'. "Just a half marathon to go!" I called out to the others. That was the last I saw of the group for the next ~4.5 hours. The trail was enjoyable for a few miles; slight gradual incline, flat packed gravel. I was running and happy as I ran along the sides of cliffs littered with cacti and lizards. Not so bad, I can do this! Mile 12 was a misery mile. Misery miles are those miles where everything sucks. You're in a negative headspace, tired, hot, glad you didn't pack a pocketknife because you're liable to pull it out and slit your own wrists to end the suffering. Mile 12 began the climbing, it was getting hotter, and there was no shade. I kept moving. Things got better for a bit, but mile 15 was another misery mile. I shook it off. What could I do? I was out there in the canyon by myself. And when I say 'in the canyon' I mean IN IT. There are rocks surrounding you. Not another human for miles. I couldn't spot the other runners anywhere along the visible portions of the trail and had no idea where I was. It was a very heavy feeling. I kept going. All I knew was I should hit North Rim, turn around and head back to Phantom Ranch. At mile 18 things got terrible. The climb was steep, up to 25% grade if not more. Switchbacks of rock steps for miles and running became a mix of jogging and walking. I could notice my left hand starting to swell a little. A clear sign that I was taking in more water than expected and not enough sodium to balance things out. But this wasn't drastic swelling and I wasn't too concerned, I could fix this. Luckily the North Rim water spigot was turned on (not a guarantee as the North Rim was still officially closed on May 12). I filled up, added a drink mix to my hand held and found a shady bench to sit on and snack on my trail mix. Sounds like a nice little pit stop right? Wrong. Big black flies were biting me and in my fatigue I swatted some with the hand holding my bag of trail mix spilling a few handfuls to the ground. Instantly a couple squirrels and a beautiful but aggressive looking Blue Jay surrounded me. Time to abandon post.
My Trail Mix:
Sweetened Banana Chips
Trader Joes Honey Sesame Almonds
Dried Mangoes (chopped)
Sweet/Salty Coconut Chips
Dried Strawberries ( chopped )
Goji Berries
Grass fed Beef Jerky ( chopped)
These were serious misery miles. At this point I was thinking, can this just be North Rim? Do I keep going? I wasn't sure what the 'end' was supposed to look like and really considered just calling this the turn around. But I thought about the others, how they were probably doing great and would mock me for turning back early. I pushed on and by on I mean up. More steps. More switchbacks. Suddenly there was a man in plaid shorts and a T-shirt in front of me. I was very confused. Where did this unfit, poorly dressed man come from!? Am I seeing things? I asked him how much further to the top and he said maybe a mile. One mile, okay I can do a mile. HAHAHAHA Let me stop here to tell you that 1 mile in R2R2R world is equivalent to 3 normal miles, at least. I got to an overlook and couldn't help but stop. It was BEAUTIFUL. I mean THE VIEW! It was the first time in hours that I really got to take in my surroundings in a positive way. I set up my phone tripod and took a photo. It took more time that I would have liked, but some things are worth stopping for. I packed up and kept going up and up. In my misery and delusion I thought I saw a car. I DID see a car!!! Go go go. One more switchback and I was there! No no, not the finish… just the 'almost halfway point', the turnaround, the North Rim. There was in fact a car in the parking lot which I assumed belonged to the plaid shorts man. I filled up with water, chugged it, and refilled. The water was cold and was the best water I had ever tasted. I had just run over 21 miles in tough conditions to get that water and I wanted every drop. I emptied out my pack bladder and refilled it with the cold water. At this point I was 6.5 hours into the journey and had burned around 2600 calories. I was doing a good job at fueling, matching my burn at about 60% by eating a brownie, some orange slice candies, half the drink mix, and trail mix. Again I wanted badly to stop for longer but I was surrounded by a cloud of gnats and flies and needed to keep moving. Down I went. It was such a game changer to be going down. Mentally I was lifted from my misery and started to smile again. I also knew I would be seeing the rest of the group at some point as this was an out and back stretch. While things got mentally easier, I can't really say they got physically easier. Going down was not easy. Faster yes, but not easy. In the first miles descending was fun because my legs were fresh enough to handle jumping over all the rocks and obstacles. Not anymore. I was tripping on rocks and sliding on gravel. The switchbacks are so tight that if you're going quickly and over shoot, well you're falling off the side of a cliff. Check out some of the photos for proof. You're right on the edge. Off balance and reach out to grab something to catch yourself? Better hope it isn't a cactus you grab. I heard the distinct rattle snake sound and came to the realization that if I were bitten, I would likely die there. No one was around for miles. There is no magic way out. This is not a supported ultra run. There are no aid stations, no assistance, no tracking, no help. In short, the trail is brutal and unforgiving. I ran into the others about 1.5 miles from the top and stopped to chat. They were as miserable as I was at that point. I tried to tell them it gets better, just get to the top…almost there…. You can do it… They were maybe an hour back behind me at that point but it was hard to tell as I had made a few pit stops and they may or may not. Also, at this point I learned all our GPS devices had different readings. My garmin said 23.5 while Eric's said 25 and Josh's said something like 28. Another canyon lesson: Miles lie. You don't know where you are, how far you've really gone or how far you still need to go. In a marathon, you know 26.2 miles. You get there. Here its like a game. You think 26 miles is the end but 26 becomes 28 and then you see a sign saying 4 more miles to go and you want to die. Well I just had my watch and I was all alone so I went by what it told me. I continue on. All I had to do is get to Phantom Ranch. I was back to feeling pretty good and was trying to keep a steady run. Next Canyon lesson: Running is Running. You know if you're running the trail. Intention matters here. I was running the trail. Pace isn't a factor. You just have to keep going. Thankfully I had my canyon playlist which included songs like 'move body, move forward' to keep me motivated. Somewhere in the middle of the North Rim stretch, maybe mile 33ish, things got bad again. Let that soak in. 33 miles in, many to go. Alone in the canyon. The trail leaves the rocky cliffs and is back to a gradual descent, packed dirt gravel trail. I estimated the ranch would be at 35 miles, but that wasn't the case. As I got to a camp ground and refilled with water, a group of campers chatted with me. They cheered me on and told me only 7 miles to the ranch. 7 miles. Sigh, what could I do but press on. The sun was intense. There was no shelter. My body was hot. I'm drinking water faster than I should. I ate a coconut ball that tasted terrible. It was thick with almond butter and hard to get down. While the trail terrain was nice at this point, my body wasn't feeling so nice. While I was still moving, still running, my legs were tired. There are rock dividers constantly along the trail; 6 inch to 1 foot tall rock barriers that completely exhaust your legs. It isn't just running along, it is running and stepping up. My legs were getting so fatigued that I was coming to a complete stop at some of these to figure out how I could get my body up and over. I was also tripping over many of them as in my head I was leaping the rocks with ease, but in reality I couldn't get my leg over high enough and I'd trip. So many near face plants. I was desperate to get to the ranch. I didn't want to eat and was drinking too much. I was losing steam fast. I walked every portion of trail shaded by rocky cliffs. There weren't many and these sections were short, but I took them in. Savoring the break from the intense sun. The air was so dry and my eyes were stinging from dust. I reached Phantom Ranch at 3pm and the temperature read 97. I was dying. So hot. Way hotter than I prepared for. 1 lemonade and a bag of trail mix later I was hobbling out the door. A camper asked me if I was running rim to rim to rim in a hushed, secretive voice. I confirmed her suspicion and thought I must have looked an absolute mess if people were just assuming I must be on this absurd journey. She wished me luck which gave me some motivation. I poured another cup of lemonade in my handheld, filled my bladder from the spigot, and kept going. I had a surge of energy and ran the next mile pretty well. I was thinking the whole run was 44 or 46 miles. Something like that. My watch said 39 and I was like "Oh hooray I'm almost done, so close!" However, I was only learning that canyon miles lie.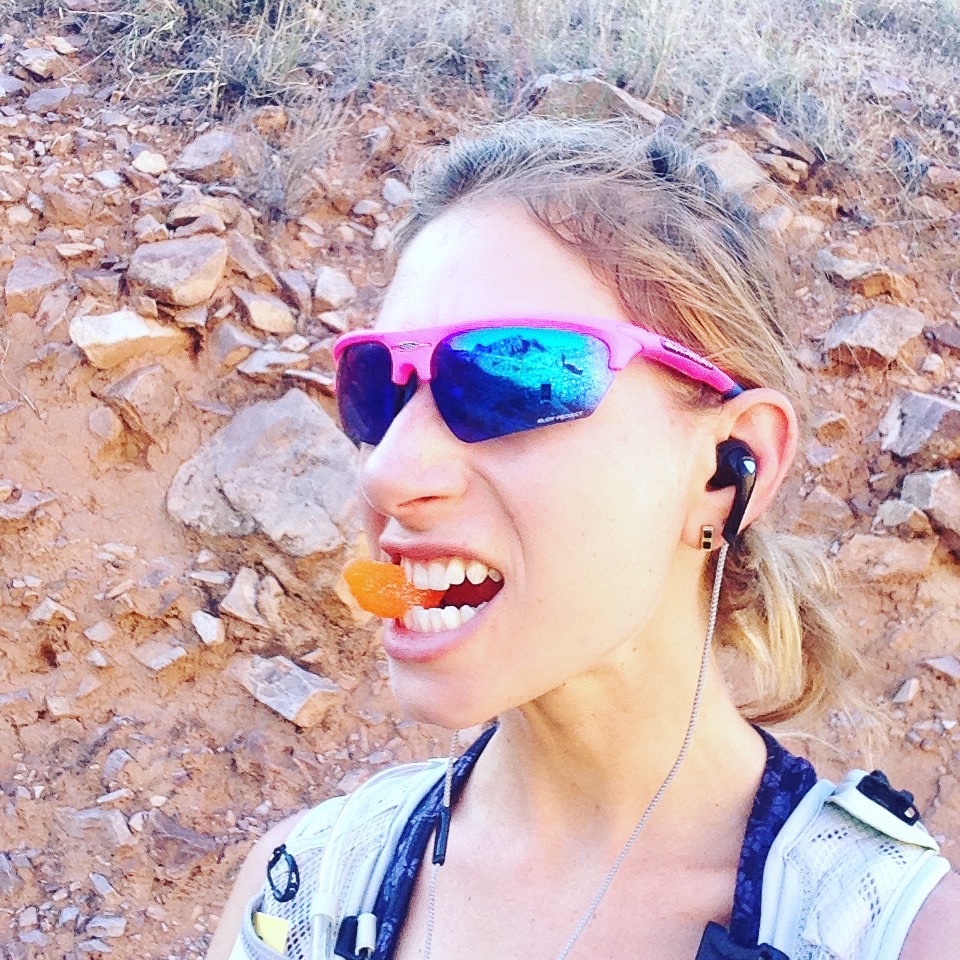 After crossing the Colorado River, I hit the Angel Bright trail section and pressed on. It was uphill. That was good because uphill meant I was on the final stretch, going up to the lodge, the parking lot, the car. Suddenly I was stepping in sand. SAND. Not just the dirt sand, but soft, sinking sand. Every one step forward was like 10 steps back. It was a slap in the face. I wanted to cry. A mile later I came across two hikers asking me where water was. I told them 2 miles back at the ranch. They asked about moving forward, the direction I was heading. That's when it really hit me; I had no idea. I didn't know where water was. I had never been on this part of the trail and I was alone. Every stream crossing I'm dipping my bandana and hat in the water and putting the wet material on my body. So hot. I kept moving, slower and slower. Hot, tired, legs heavy. In case you didn't know, when you hit over 10,000 ft of ascending your garmin just says '-----'. Like what, this must be a mistake. Thanks garmin, I feel the same. Still going up. I'm really starting to tire at this point and I feel like I'm running out of water. Time is going by quicker than I thought and I'm wondering if I'll ever finish. I have no idea where the rest of my group is. 30 minutes back? 3 hours? No idea. No way to know. I was completely done taking photos and enjoying the scenery at this point. The canyon could go F itself. I never wanted to see it again. Stupid hole in the desert. Whose idea was this anyways!? I caught up to a few kids strolling with jugs of Gatorade and asked them how far to the top. They told me 1 mile to their campground, then another 4.6 to the top. I almost died. Over 5.5 miles to go!? Really!? Canyon Miles. All I could do was keep going until I got there. There is no other option in the canyon. I was determined to get this over with. Luckily the Indian Garden campsite had water. I filled up and noticed both hands were significantly swollen. I loosened my watch and ate a handful of trail mix and the rest of my drink mix packet. I was a little nervous for my obviously swollen hands, but I could still bend my knuckles and there was nothing I could do now so I just kept going. 4.6 miles left. These were the hardest miles. Beyond misery. I was broken mentally and physically. Running was a shuffle that faded to a walk. I had to keep telling myself to keep going. Mental delusions of being eaten by a bear entered my head. I was sure the rest of my group would find my body out there. Then it hit me, good thing I'm ahead. What if I were last?! No one would find me. The danger is real out there. There are so many points where disaster could strike. I was depressed and miles from being done. Again, do not laugh off 4 miles of an ultra run. 4 miles with ~2500 ft to climb. Switchback after switchback of rocky steps. I was close to 5,000 calories burned but not in the mood for food. I wasn't bonking, just flat out exhausted. I ate a Honey Stinger, my first and only gel of the run, and it perked me up enough to continue on. Everyone else in my group had poles with them. At this point I was super jealous of their poles. I kept climbing. My watch beeped 'low battery'. No way. I was not going to let this not get recorded. After checking the time, I knew dark was looming. No freaken way was I going to be out here in the dark. Must finish. Must get to the top. Sheer determination. With just over 2 miles to go I could see a line of 4 spaced out hikers. I tried so hard to pick them off. One, then the next, then another, I was moving again. The last one had stopped to eat and as I went by he said 'you look like you've just run rim to rim'. I stared at him and nodded. He immediately jumped up and proclaimed his excitement for me "REALLY?? YOU'RE A BEAST!" I muttered that I was almost done and had to be done. I don't think he understood how much I wanted to be done. He grabbed his poles and followed me, chatting along. Damn people and their poles. I was happy for some company. I was shuffling hard. It had to be close. I was holding my cell phone now. Just wishing for service to pick up. It didn't. I saw a house. I saw groups of casually dressed people. Just one more switchback. I asked the hiker to grab a photo of me. Then there it was, the top. As soon as I stepped off the trail, I was in tears. I didn't look back. The feeling of finishing was so overwhelming. I never want to do it again. I am glad I made it. It was nothing short of epic. I've done plenty of runs, rides, and other athletic events, but this was hands down the most mentally and physically crushing event I'd ever endured. 14+ hours in the brutal, unforgiving Grand Canyon.
Aftermath.
I waited at the car. I was scared for the others. Where were they. Were they together? All I could do was wait. I walked around a little, put on my compression socks and a long sleeve top and ate popcorn. The salt would help. I tried to lay down in the van but my body ached in ways I never felt before. Apparently the others were getting spotty cell service. I learned that they were coming. Hours passed until the next runner emerged. More waiting, another one. 5 hours later we were all accounted for. Everyone alive, everyone completely broken down, but thrilled for the accomplishment. We popped champagne in the parking lot.
Would I do it again? No thanks. I can barely move. I'm swollen and hurt everywhere. But what doesn't kill you…
If my post didn't deter you from taking on this challenge, read my TIPS post!