Van Life Begins
It started with a composite team guest spot racing UCI GP Gatineau in Canada on Saturday May 20th. I was simply going to drive my car there and back... but the simplicity of the trip didn't last long. Since I'm trying to pack my season with races and get the most (and highest level) racing experience that I can, it made sense to not just make the 11 hour trip for 1 race. Killington Stage Race in VT had been on my radar because its tough and draws a larger, more experienced women's field. It just made sense to tack this onto my drive to Canada since it is the next weekend and going from Ottawa to VT would save a lot of driving time. Problem? Well I can't afford the plush life of staying in hotels all week. Sleeping my car with 2 fancy race bikes on the back would also not be an option. I figured I could bum a host house somewhere... how hard could that be? When I first accepted this guest spot, I had no idea it would be a catalyst for a summer adventure full of elite racing.
When my parents heard about my plan they laughed; silly daughter doing silly bike things. Then they rallied. It was suggested that I take my father's Ford Transit van that he used for his previous business. I could sleep in it and fit my bikes. Deal! They said they'd try to fix it up a little... This was about 2 weeks out from my journey's start date so I wasn't expecting much. Of course when my parents decide to do something, they go all out. Wonder where I get my drive from ;)
Being able to travel around racing my bike was amazing news. What fun! Livin' the dream! Well yes.... but being on the road means reducing my work load; earning less money while spending much more. Gas, entry fees, food, equipment... these things all add up. Since I'm racing unattached, I have no team to send me bikes or pay my entry or give me apparel. I got busy to gain support and make my cycling dreams come to fruition. I created sponsorship packets and sent them out to brands that I trust and have experience using and promoting already. I set up a GoFundMe account for friends, family and fans to show their support. A lot of work went into creating these materials and marketing myself to companies. It was exhausting. There was a lot of rejection. A lot of not hearing back. But then things started to come together.
Meanwhile, my parents were hard at work making sure this van would be safe, reliable, and (at least somewhat) livable. They refused to send me photos. "You have to be surprised!!" they said. I was biting off my nails and pulling out my hair with anxiety. They drove the van from Florida to Columbus for Mother's Day weekend. I can't lie, they did an amazing job! The outside was bright white with my own and a few of my sponsor's logos printed on it. The engine had been serviced and everything updated to make the long trek. The inside had a cot, electric cooler and plans for finishing the rest over the weekend. This was really happening. Luke helped my dad build a secure area for the bikes and wheels. Mom and I worked on what would be brought along and how to fit it all. It takes a large amount of gear to live in and race bikes out of a van for 12 days. They flew home, leaving the van keys in my hand.
Just 3 days until take off. Gear began to pile up in the living room. There were trips to REI and the grocery and amazon.com. The 'plan' was to start driving to Ottawa early Thursday morning, stopping in Rochester NY for a bite with friend Chelsea Knapp and quick ride to stretch out the legs. Then keep driving until I couldn't anymore. Pull over, sleep, wake up and drive some more. I wanted to get to my host housing as early as I could Friday because there was race registration and recon to do. Friday night I would have a nice sleep (and shower!) at my host's. Saturday was race day. GP is scary. They start list is LIT and there's only a 8% time cut allowance on a course with several technical bits. Eek. After the race would be team dinner + celebration. Then I'd jump in the van and start driving back to New York. Why leave so quickly?... Well bc of course I found another race to add to the calendar!!! Bloomfield RR in NY on Sunday May21 was added, I mean it's only 4 hours away and will be great experience to race on tired GP Gatineau legs.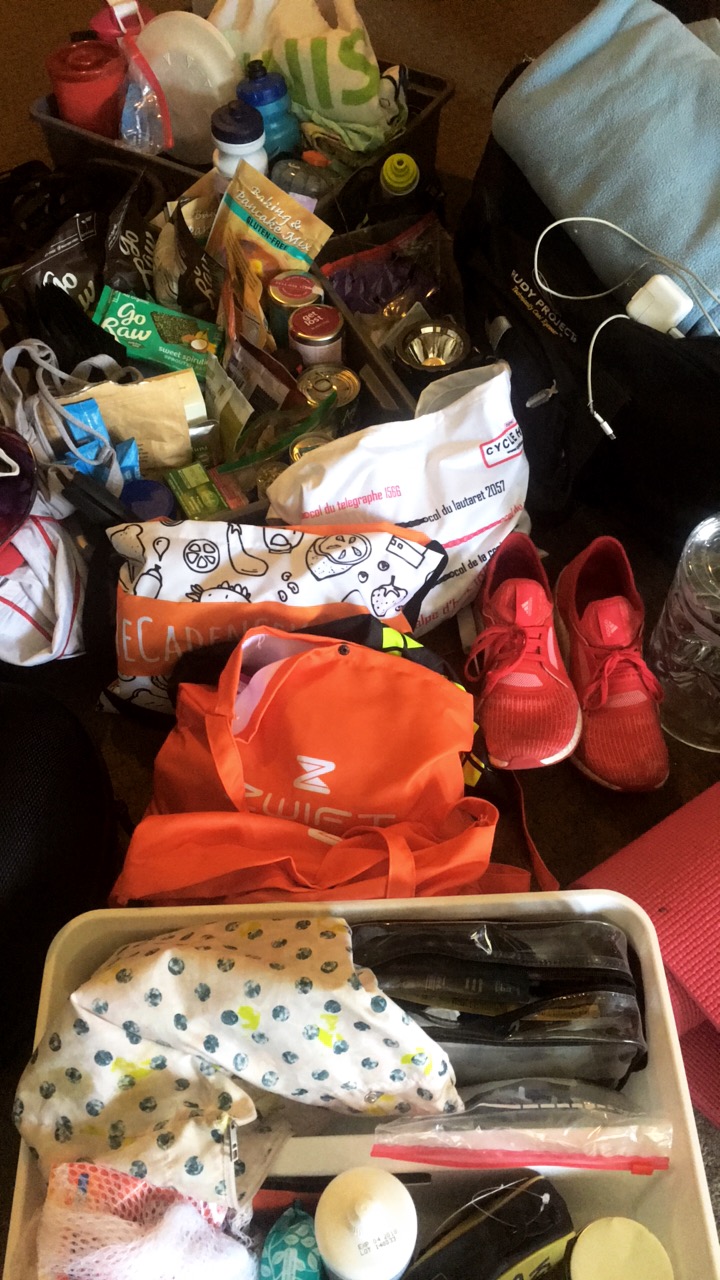 I'll post more on what I packed as I go... But some essentials of vanlife include the following:
Bathing Wipes
Water
Blankets
Cycling Gear (obvi)
Flashlight
Jet Boil system
Yoga Mat
Stick
Sport Food
Easy to prepare / non perishable food
Batteries
Knife
Pepper Spray (don't F with me!)
Coffee
Laundry Soap + Wash Line
Camp Chair
Books
Headphones
First Aid Kit
Many other things...
After Bloomfield I'll have 5 days of solid van life until Killington. This part of my journey is a bit unknown. I'm planning to just find some nice camping spots or parks to hang out in. Relax, ride my bike, read, eat and of course update everyone on the journey! Once Killington ends, I head back to Columbus and have a few busy days at home before heading back out to race Johnson City Omnium in TN. In total it'll be roughly 3 weeks in and out of a van to race bikes at large, hard races. Yay! or Yay?....
I haven't experienced a trip like this before. On my own. In a van with my bikes. I'm excited, but also slightly unsure. Will I end up smelling terribly? Will I sleep okay? Will I be too cold/hot? Will I run out of battery charging phones/computer/cooler as I drive... Would I be able to figure out the camp cooking set up to boil water and make food? Meh I'm sure I'll be fine.
There's still much work to do. I have to get the inside packed and situated.
I'm also still searching for additional sponsors and supporters and working on a kit design to wear for future races. But I'm very proud of what I've accomplished in a short period so far.
Huge thank you to everyone who showed support and make a donation. Even a small donation helps, so if you're reading this story and want to read future stories.... please go HERE to make a contribution. $5, $50, $100.... every bit is appreciated.
Current Sponsors include:
I'm very thankful that these companies believe in me and are helping to fuel my races.
I've also had support from BellisMotto + Otterhaus Coaching along the way.
If you'd like to see me promoting your brand, company, or product along my racing journeys please reach out!!
Stay tuned for more and please post any #vanlife questions in the comments!